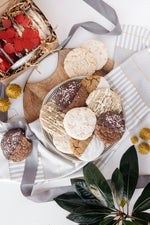 We are in full swing Christmas mode over here at TCC! Having so much fun watching your orders rolling in for our new Limited Edition Christmas box! We have begun shipping your orders earlier this week, and they are starting to arrive!
It's always so rewarding hearing how much you enjoy seeing these boxes when they release. Our team works so hard to create something you will love, and we just know this box is
wayyyyy
up there!
Have you ordered or pre-ordered yours yet?
Local friends please don't forget to call ahead to reserve your box each day because we do sell out in store daily! 423-444-6035
Come watch all the behind the scenes fun over on I
nstagram
!
If you have any questions, need to make a change to your order or simply need assistance please email Sabrina at sales@thecookiecrate.com -- We are so happy to help in any way we can!