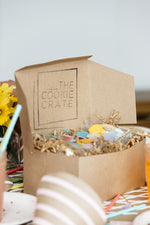 The pandemic changed a lot, like everything. Celebrations were altered, minimized, or cancelled altogether. Research is showing that people have been looking for ways to gift each other while staying safe during quarantine. There was an 80% increase in online gifting from 2019-2020. Even with the chaos and confusion of 2020, we still wanted to be able to celebrate each other and our milestones. For example, searches for "how to celebrate" grew 30% in just 1 year. We are seeing, more than ever, just how much we enjoy encouraging each other with gifts and time together. The Cookie Crate makes online gifting quick, easy, & intentional. Have delicious cookies, a personal note, and colorful confetti arrive on someone's doorstep for a moment they will never forget!

**We have gluten-free, dairy-free, and soy-free cookies available as well!

Click here to shop for your special someone!