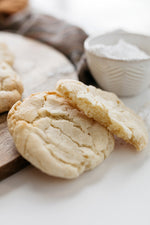 Okay you promise not to come after me with pitch forks? Because I really wouldn't blame you... but, friends, it's a sad time.
Whipped Cream
has to go away TEMPORARILY to make room for Fall Box launch October 1st!
I know! I know! I can feel your whines through the screen and I am WITH YOU! But listen, they freeze amazingly well so you can just stash them away to get you through! And I am giving you PLENTY of time to order and stock up!
PLUS taking away only means making room for more goodness to come! And I can guarantee you're going to fall in love *pun intended* with our Fall box flavors! We have THREE all new cookies coming and some favorites returning! Make sure to keep up with us on
Instagram
to see all those releases..
SO GET PUMPED! (I'm trying to deter your attention from the sad news... is it working?)
Whipped Cream comes down September 30th so you have plenty of time to stock up... eat some... and
buy some more
!
Use code BULK13 when placing an order for 3 or more boxes.
*Boxes can be shipped to multiple different address. Please include the recipient's full name and shipping address in the Special Instructions before adding the box to your cart. Then, repeat as many times to as many addresses as you would like!