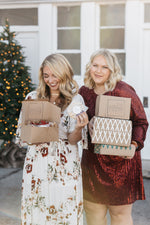 Christmas is right at two weeks away...
Do you have everyone on your list checked off yet?
Have you saved the hardest for last?
Have you forgotten about anyone?
Are you at the point in your shopping list where you just do not know what to get your loved one that is across the country that you will not be able to see this year? Or your uncle that you can never seem to find anything he would like? Or your grandmother that has everything she could ever want and more? Or you just want to show your love and appreciation for the postal service workers that have worked so hard this season?
We have got you covered! You can still place your order for our
Limited Edition Christmas Box
for a couple more days! I already know that anyone you have in mind would love receiving this gift full of cheer on their doorstep!
I am a total procrastinator, and I can assure you that sending a crate of cookies with confetti and a hand written note has saved me a time...or two 😉
Shopping for multiple people?
Don't forget to use code: BULK15 when you order three or more crates. What could be better than taking care of all your loved ones and getting a discount?!
Our
Limited Edition Christmas Box
is available for
TWO more days
and makes the most perfect gift for anyone in your life!