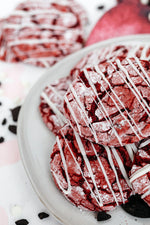 Do I sit and stare at photos of cookies on my phone… no that would be weird.
I just threaten my husband with 875 texts to bring me home as many as he can… or else 👀
I'm thinking this upgraded red velvet is going to have to replace our classic red velvet on the site. I mean Oreos and whipped!? Need I say more?