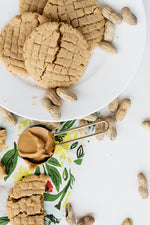 Sometimes we shed tears for those of you allergic to peanuts because you'll just never know what you're missing. No worries - there are plenty of other options for you on our site. But for those of you who CAN chow down on some
PB cookies
, you'll need some self control because ours are so freaking delicious you won't know how to stop devouring them! We created the
perfect
homemade peanut butter cookie recipe that isn't dry or crumbly. BTW, we offer them in a
gluten-free and dairy-free
option too!
FYI our peanut butter cookies are soft in texture, but the consistency of the peanut butter can sometimes cause the cookies to separate and break during shipment. We do our best to pack them carefully nested between your other cookies to prevent this from happening. Good news - they still taste amazing either way!
*Click here to build your own dozen!
**These do contain real peanut butter made with real peanuts.