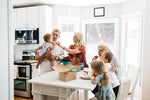 These last 2 weeks have been packed FULL of FUN and surprises!
We are closed Monday, January 17th, in observance of Martin Luther King Jr. Day.
The storefront will be closed, and we will not be responding to emails or phone calls.
We will be back in action on Tuesday, January 18, with something. . . BIG!