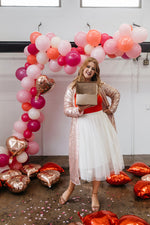 You work hard and it's time to extend a little grace and kindness to yourself.
What better way to sweeten your day than to gift yourself a beautiful box of cookies!?
3 Whipped Chocolate Truffle Cookies
3 Whipped Red Velvet Cookies
3 Whipped Strawberry Cookies
3 Whipped Caramel Cookies
+ 1 Whipped Cream Cookie

You deserve it!