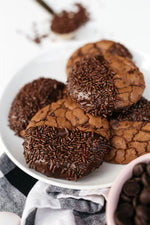 Salted Chocolate Truffle is just as delicious as it is gorgeous! 😍
Super chocolatey and not overly sweet, it really is a chocolate lover's dream. TODAY is the last day to add Salted Chocolate Truffle to your order! Don't miss this one!!
While we wish it could stay all year long, we have soooo much more coming for you this month...In fact, we have something BRAND NEW coming NEXT WEEK! 😉

*Click here to stock up!