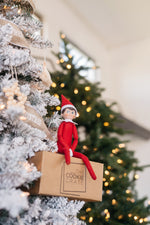 As the holidays wrap up, we have to say goodbye to some of our favorite household elves...
But sometimes they leave a little gift behind! With The Cookie Crate, your kids' elf can leave a sweet treat
and 
a personalized note wishing your kids a happy new year and reminding them that they'll be back next Christmas! 
*Elves, click here to shop for your kiddos.