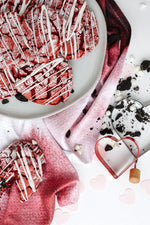 You know and love our Red Velvet Cookie so we had to try it out in our favorite texture...We have created a Whipped Red Velvet Cookie and y'all, I didn't think our classic Red Velvet could get any better, but it did!
The Whipped Red Velvet is pillowy soft, has Oreo pieces mixed in, and is topped with a white chocolate drizzle. Oh. My. Goodness!!

*Click here to try it out!