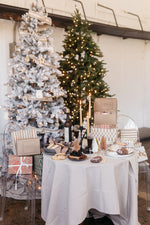 Are you ready for a scrumptious cookie box jam packed with Christmas flavors!?
You all are going to
flip
and this box truly makes a perfect self indulgence, but also makes for a fantastic gift to give with such gorgeous, delicious cookies, festive confetti and the option to include a personalized note.
Can't be with family or friends this holiday season? Send them the perfect "I'm with you in spirit" gift that anyone would love to find on their doorstep.
Not to mention we have a
NEW
addition -
custom cards
to upgrade your gift with a few clicks of a button! Check them out here!

Inside of this box:
3 Peppermint Chocolate Dipped cookies
3 Butterscotch Shortbread cookies
3 White Chocolate Crumb Cake cookies
3 Eggnog Snickerdoodle (same base as our whipped cream)
Bakers Dozen: 1 White Chocolate Dipped Gingersnap Cookie
Head over to Instagram to have a closer look at these cookies!


Frequently Asked Questions:
No substitutions of cookies in this box. It comes as is. The flavors in this box are ONLY available in this box.
This box is available online until December 12th and in store until December 23rd.
You can pre-order and request for it to be shipped and delivered by December 22nd at the latest.
These flavors are not gluten free.
There are no nut allergens in this box.
Pro Tips: Microwave room temp cookie for 8 seconds for optimum enjoyment! Cookies can be frozen for up to 3 months sealed in their clear packaging.
Shipping: 24/48 hours of processing time during business hours. Expect a potential delays during box launches & holidays. FREE shipping via FedEx Express two day delivery.