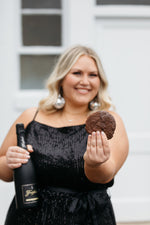 This cookie has been an absolute
HIT
ever since it was in our
very first
Limited Edition Valentine's Day Box in 2020. We knew we wanted to bring it back at some point (due to the amount of messages and emails we get constantly), but it can only be around in the winter months. Otherwise, it would melt in transit. We are
NOT
including it in this year's box, but we wanted to make sure you got it!
It is here for TEN DAYS only!
It will come off the site on January 10th. You will want to make sure you do not let this one pass you up. All my chocolate lovers out there, THIS ONE IS FOR YOU!
This cookie is similar to a brownie! It is very dense, but extremely soft! It has Ghirardelli dark chocolate baked throughout it and is half dipped in milk chocolate! It is also sprinkled with sea salt to pair well with the richness of the chocolate. It is just as delicious as it is gorgeous.
*Click here to get your hands on this cookie!!