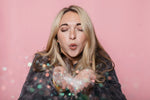 2022 is here!
We are so excited to delight & surprise you with all the amazing things we have up our sleeves this year! I would say all the cookies, but. . .there
miiiiight
be something else coming your way very soon
😏😉
Follow along on Instagram to make sure you don't miss a moment!