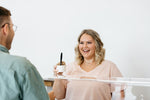 Our edible cookie dough is finally here! And we've got some very important info for you...
Our cookie dough is available in store in these sizes:
6oz (2 scoops of up to 2 different flavors) $3.95
8oz (3 scoops of up to 3 different flavors) $4.95
Quart (12 scoops) $23.95
We are only offering it in store at this time, but we hope to be shipping verrrryyyy soon! Keep an eye on our Instagram for that announcement...
Our edible cookie dough lasts 2-3 weeks in the fridge. We recommend wrapping it in plastic wrap and/or sealing it in an airtight container. We are currently testing freezing the edible cookie dough, and we will share those results as soon as possible!
It is safe to eat because we make it with no eggs and the flour is heat-treated to at least 165F to kill any bacteria.
Because of this, our cookie dough is not bake-able.
Our flavors will change seasonally with our menu.
We are currently testing gluten-free versions, but we will not be offering it until we find the perfect flavor and texture. We never sell anything that we don't absolutely 100% love!
If you have any other questions, let us know on
Instagram
or email us at sales@thecookiecrate.com!