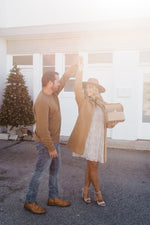 I can't believe launch week is officially here! The team has been working so hard on this in the last few months from deciding on flavors to preparing our stocks and inventory for the busiest time of the year!

Our box goes live this Wednesday, November 24th, at 12pm EST. But in the meantime, we are having some fun with you over on Instagram! If you haven't joined in on our trivia make sure to head over and try your hand at winning a FREE Christmas Box before it even launches!

We truly cannot wait to share this box with you! It's packed full of holiday favorites and will make the perfect gift for anyone on your list (including those hard to buy for people). Not to mention, if you're hosting a holiday gathering, these cookies will make the most beautiful platter and it's effortless for you!

Not hosting, but attending? Don't come empty handed - our specialty box with festive confetti and a personalized note makes such a beautiful, intentional, and yummy gift!