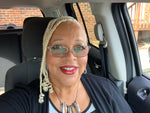 Meet The Cookie Crate team!
Hello, my name is Cathy, and I have been part of The Cookie Crate family for 1.5 years. I get to do quality control, cookie packaging, and stock inventory. I take pride in knowing that I am responsible for providing customers with a great product. I love getting an opportunity to meet new people, talk to them, and be part of this extended family! My favorite cookie is currently the
classic chocolate chip
, but my all time favorite is the
chocolate sea salt truffle
! I was born in Knoxville, Tennessee and grew up in Jefferson City, Tennessee. I love the TN Vols and enjoy collecting anything Vols! I also enjoy college & NFL football and college basketball. I enjoy going to games, traveling, and meeting new people. A verse I live by is "I can do all things through Christ who strengthens me." -Philippians 4:13. I don't believe I would be here and have gone through my life's journey had it not been for Jesus Christ! He was with me even when I wasn't with Him,
ALWAYS
! A fun fact about me is that I have never met a stranger! Also, I love my sons so much and have a super close connection with them. I am so blessed!