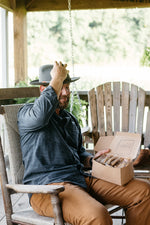 Did you know it was a thing?
October 16th
to be precise!
Jon and I were spoiled by our team earlier this week (a bit early before we head out of town) and it was honestly the sweetest. Sometimes it's just really sweet to feel appreciated in an extravagant way, ya know? We all need that sometimes!
If you want to grab your boss a
Cookie Crate
to show your appreciation we'd love to pack and ship that for you! You can have it delivered to the office, their house or your house and hand deliver it yourself!
The deadline to get your order in is October 12th.
Put in the shipping instructions you'd like it to be delivered
as close to October 16th as possible
and we will take care of the rest!
*Click here to send your boss a Limited Edition Fall Box!
**Click here to Build Your Own Dozen!