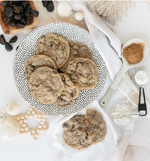 Boy do I have news for you today!
FIGGY PUDDING IS BACK
for 5 days only
AND
we are giving you
12% off
with code BOO! That never happens on launch days so JUMP ON IT! This delicious concoction of holiday spices and sweet figs was in our Christmas box last year and it won't be returning in this years box, but it was so special we couldn't NOT bring it back for a hot second! I will warn you... this is the type of cookie you can't stop at one with. I've tried. It's impossible. It's savory and sweet, but not too sweet. With notes of cinnamon and spices and the perfect subtle bite of fig. UGH! I'm drooling as I type! TRUST ME and run for this one!
*Click here to grab some while they're here!