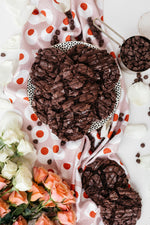 We took 2 of our absolute FAVORITE cookies & created the best chocolate cookie you will ever taste! You may have had our Sea Salt Chocolate Truffle, and you have definitely had our Whipped Cream...
Allow me to introduce, our Whipped Chocolate Truffle!
This cookie still has the dense richness of dark chocolate plus the soft fluffiness of whipped cream. You'll LOVE it!

*Click here to try it out!