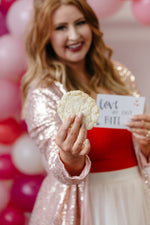 Have you every wondered what a cloud would feel like? Taste like? Well, we brought a cloud to you... and she's called a Whipped Cream cookie. This is our OG whipped cookie, and you've never tasted anything so soft, so sweet, so light and airy in texture, until you've had this cookie.

This flavor was a part of our Valentine's Day box and it was HIGHLY raved about and voted by hundreds of customers to come back. We even kept it on our menu for a loooong time!
When we planned the 2022 Limited-Edition Valentine's Box, we knew Whipped Cream had to be the Baker's Dozen!

*Click here to try it out!!