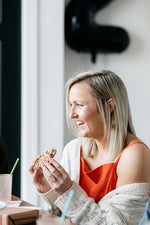 Let's switch it up, and I'll share some of my current favorite products! Just a disclaimer, my summer was full of wedding planning and preparing to start my Speech Language pathology career. It is a lot of fun, but I have had a crazy busy time...
1.
DrinkPoppi
These are a prebiotic soda with a little bit of apple cider vinegar. They are healthy for your gut and improve immunity. I have a lot of stomach issues, but this has totally helped. They have so many yummy flavors!
2.
Birkenstock Dupes from Target
These shoes are perfect for summer! I will be wearing them to the beach and pool for sure. I hate trying to get sand off my shoes, but these are so easy to clean. Best of all, they're only $10! They do run pretty big...
3.
Portable Car Vacuum
I love this thing! You can plug it right into your car and even make your husband vacuum while you drive. I actually accidentally added it to our wedding registry, but I'm so happy I did!
4.
My Quiet Time Devotional
It is a day-by-day devotional and helps me stay in the word in the midst of all the craziness. I was given this as a gift, and I love it.