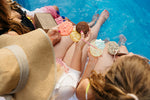 Our Limited-Edition Summer Box made a splash for sure! We actually heard from several of you that this was your favorite box launch EVER. Developing this box took a mixture of creativity and logic from all of the amazing team members here at The Cookie Crate.

Ready for some numbers?
In 2 weeks, we shipped 1,361 boxes total, including 905 summer boxes! Many of those summer boxes were repeat purchases because y'all kept coming back for more! In those 2 weeks, we made a total of 18,824 cookies from scratch, by hand! We have an incredible team and amazing leaders at The Cookie Crate, and we could not have had such a successful box launch without YOU. So thank you!! In the end, you all voted for Lemon Sherbet to stay on our website for a while longer, so snag yourself a dozen of those while you can!